The King Valley wine region is located in north-east Victoria, next to the Alpine Valleys and Beechworth regions and south of Rutherglen. Outside of the Victorian portion of the Murray Darling – Swan Hill region, King Valley is the largest winegrape producing region in Victoria by tonnage.
The GI is 2,021 km2 in size and has a total of 1,535 hectares of vineyards. The main varieties grown in the region are Prosecco, Pinot Gris/Grigio, Chardonnay, and Pinot Noir.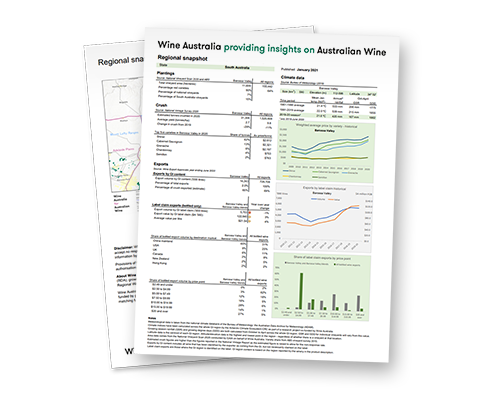 King Valley Regional Snapshot 2022-23
Regional Snapshots are one-page profiles updated annually of individual Australian wine regions. They provide at-a-glance summary statistics on: climatic characteristics, viticulture data, winegrape production, and winegrape price and export sales data for wine, compared against the same statistics for the whole of Australia.
Download now
-36.983
Latitude (southernmost point)
Merlot
This continues to be the most widely planted variety in the King Valley. Ripening readily the resultant wines are soft but flavoursome with flavours are in the sweet berry spectrum, with just a hint of mint and more herbaceous notes.
Pinot Gris / Grigio
Both the Gris and Grigio style are produced in the valley. The Grigio wines boast fresh aromas of citrus and pear, with a palate of distinct savoury characters and a crisp finish thanks to the cool climate fruit. The French Gris style on the other hand is richer on the palate with an exquisite tang of tropical acids.
Sangiovese
Sangiovese (and other Mediterranean varietals) have been shown to be perfectly suited to the region's cool climate, with the wines developing distinctive varietal characteristics.
Top varieties grown in King Valley

Climate
The climate changes progressively and significantly from lower northern to higher southern elevations, with a progressive increase in rainfall and a decrease in heat summations.
Ripening is progressively delayed; the style of wine changes, and at the highest altitude only the earlier ripening white varieties are suited to table wines.

Soil
The soil types vary significantly throughout the valley, changing with altitude, slope and site characteristics.
Deep red clay loams abound, at times veering more to grey or brown in colour but having the same structure.
Drainage is good, fertility high, and vigorous growth is encountered in virtually all sites.
Stay in touch with Wine Australia