Hilltops NSW is a hidden gem region, home to an array of exciting award-winning wines and rustic cellar doors. The region's reputation was founded on Cabernet Sauvignon and Shiraz, but increasingly attention is focused on the region's Italian inspired wines crafted from varieties including Prosecco, Sangiovese and Nebbiolo. The region also hosts plantings of alternative varieties including Fiano, Corvina and Rondinella.
Traditionally known for its cherries and stone fruit orchards, the undulating countryside around the township of Young also sustains over 600 hectares of vines. The original vineyards date back to the mid-1970's when cabernet sauvignon and shiraz were most widely planted. More recently, Hilltops vignerons have established Italian varieties in their vineyards – think Prosecco, Pinot Grigio, Sangiovese and Nebbiolo – that all thrive on the elevated well-drained red granite loam slopes of the region.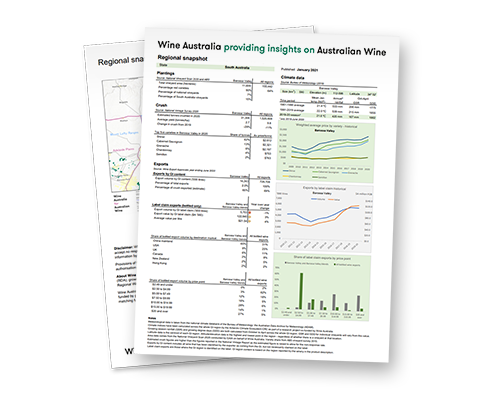 Hilltops Regional Snapshot 2021-2022
Regional Snapshots are one-page profiles updated annually of individual Australian wine regions. They provide at-a-glance summary statistics on: climatic characteristics, viticulture data, winegrape production, and winegrape price and export sales data for wine, compared against the same statistics for the whole of Australia.
Download now
-34.823
Latitude (southernmost point)
Cabernet Sauvignon
The region produces elegant, intensely flavoured cabernets characterised by briar, savoury notes and full mellow palates.
Shiraz
Think cool climate pepper and spice, red berry fruits, full-flavoured with mid-tannin structure that enables cellarability.
Tempranillo
Several growers have planted Tempranillo an early ripening red variety that thrives in the Hilltops region producing mellow mid-weight red wines.
Nebbiolo
Could Hilltops Nebbiolo become the region's flagship variety? Increasingly wine writers are lauding Nebbiolos from the region, wines of structure and intensity set to rival those from northern Italy.
Prosecco (Glera)
A prolific variety and one of the first to ripen every season. Generous bunches ripen under sunny skies to produce sparkling wines packed with lemony, zesty refreshing flavours.
Pinot Grigio (Pinot Gris)
Whether picked earlier in the season when zingy and crisp, or later to craft Pinot Gris wines, Hilltops Pinot Gris grapes are highly sought and create memorable full flavoured white wines with lingering fruit-driven palates.
Top varieties grown in Hilltops

Climate
Thanks to its altitude the Hilltops boasts a desirably cool continental climate. That means chilly winters, warm summers and typically very settled autumn conditions when the days are sunny and night temperatures fall, perfect for long, slow grape ripening and flavour concentration.

Soil
The dry summer and autumn provide excellent ripening conditions but make irrigation essential.
The soils are rich and deep; typically dark red granite clays impregnated with basalt. While capable of holding water at depth, they are free draining and support strong vine growth.
These soils persist along the ridge tops and hillsides, which provide the greatest degree of protection against frost.
Stay in touch with Wine Australia