Orange is a wine region located west of Sydney in New South Wales. It has a wide range of elevation (between 376 to 1390m above sea level) which greatly effects the climate. Overall, mild to warm mean temperatures are offset by cool nights during the growing season.
The GI is 3,422 km2 in size and has a total of 1,075 hectares of vineyards. The main varieties grown in the region are Shiraz, Chardonnay, Sauvignon Blanc and Cabernet Sauvignon.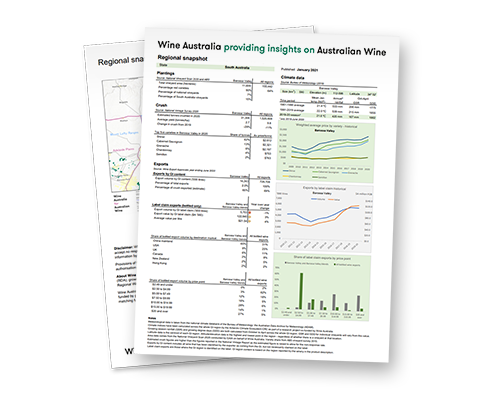 Orange Regional Snapshot 2021-2022
Regional Snapshots are one-page profiles updated annually of individual Australian wine regions. They provide at-a-glance summary statistics on: climatic characteristics, viticulture data, winegrape production, and winegrape price and export sales data for wine, compared against the same statistics for the whole of Australia.
Download now
-33.812
Latitude (southernmost point)
Cabernet Sauvignon/Merlot
Usually blended, but sometimes produced as single varietal wines, these wines leave no doubt that the Orange region has a temperate climate. The flavours run through the herbaceous and earthy spectrum with dark berry sweetness. They are of medium weight and body and have fine tannins. They can also be very effectively blended with wines from warmer regions such as Mudgee, the Hunter Valley and Cowra.
Chardonnay
Chardonnay is a very important wine for this region, growing well at all elevations and producing a diverse range of styles, from crisp and elegant through to robust and full-flavoured. Carefully made regional styles respond well to medium-term cellaring of four to five years.
Sauvignon Blanc
This variety grows well in Orange's cool climate, producing aromatic white wines with strong tropical fruit flavours.
Top varieties grown in Orange

Climate
The climate is strongly influenced by, and largely dependent on, elevation. Overall, mild to warm midsummer mean temperatures, seldom rising above 32°C (90°F), are offset by cool to very cool nights during the growing season.
The rainfall predominates in winter and spring, while the three driest months are February, March and April, making supplementary irrigation highly desirable.
Wind is both friend and foe. On the one hand it helps to reduce the major threat of spring frosts. On the other hand, it interferes with fruit set on sensitive varieties such as Merlot.
Other than spring frosts and climatic aberrations such as light snow in December, the major threat is from birds, which relish the grapes as an extension to their diet.

Soil
The undulating countryside is not only very attractive but is of fundamental importance in determining site selection. The soils vary widely, reflecting the different geological strata rock and fall into four main groups.
The first are the well drained, friable, deep red-brown clays derived from basalt that are found near Mount Canobolas. Second are the deep red-brown, yellow-brown clay loams of mixed origin, including volcanic ash. Both these two soil groups promote considerable vigour.
The third is a red-brown podzolic clay loam of medium vigour overlying a medium clay and shale base interspersed with gravel, which assists with drainage. Finally, there are patches of terra rossa associated with visible limestone at the lower elevations.
Stay in touch with Wine Australia