The Riverina is the largest wine producing region in New South Wales. It is a flat tract of land on the state's south-west plains and is centred on the city of Griffith.
The GI is 77,974 km2 in size and has a total of 20,113 hectares of vineyards. The main varieties grown in the region are Chardonnay, Shiraz, Semillon and Cabernet Sauvignon.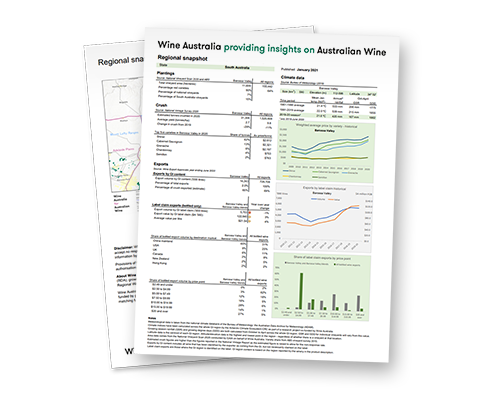 Riverina Regional Snapshot 2022-23
Regional Snapshots are one-page profiles updated annually of individual Australian wine regions. They provide at-a-glance summary statistics on: climatic characteristics, viticulture data, winegrape production, and winegrape price and export sales data for wine, compared against the same statistics for the whole of Australia.
Download now
-35.671
Latitude (southernmost point)
Chardonnay
Chardonnay is the Riverina's third most important grape variety. Judicious use of oak produces a wine of pleasant varietal flavour, weight and style.
Top varieties grown in Riverina

Climate
High evaporation, low relative humidity and ample sunshine are features of the summer.
A characteristic of the climate is high growing-season temperatures. Autumn conditions favour the onset and spread of the fungus Botrytis cinerea.
The higher humidity late in the season allows Botrytis or "Noble Rot" development to occur after the picking of most of the red and white varieties.
With the region having such a low natural rainfall, grapes can only be grown here economically with irrigation.

Soil
The Riverina plains were deposited by the action of ancient streams upon the remnants of the Great Dividing Range and thus consist of highly variable alluvial soils with sands and gravels embedded in clays.
The main soil type of the Riverina is red-brown earth. It has a loamy surface horizon 10-35 centimetres deep and passes abruptly to a reddish-brown clay which contains lime at a depth of about 70 centimetres.
Many of these also contain limestone rubble. It is on these soils that the majority of the vines are planted.
Stay in touch with Wine Australia