The Adelaide Plains region is located just to the north of the city of Adelaide. The GI region is nearly 1000 km2 in size and has a total of 567 hectares of vineyards.
The region has a dry yet maritime climate, with an annual rainfall among the lowest of any Australian wine region.
The main varieties grown in the region are Chardonnay, Colombard, Cabernet Sauvignon and Shiraz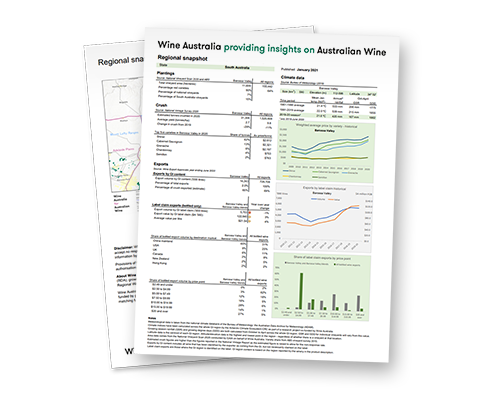 Adelaide Plains Regional Snapshot 2019-2020
Regional Snapshots are one-page profiles updated annually of individual Australian wine regions. They provide at-a-glance summary statistics on: climatic characteristics, viticulture data, winegrape production, and winegrape price and export sales data for wine, compared against the same statistics for the whole of Australia.
Download now
-34.853
Latitude (southernmost point)
Cabernet Sauvignon
A medium to full-bodied, forward, ripe style Cabernet Sauvignon has long been a mainstay of the Adelaide Plains and is often blended with Shiraz or Merlot.
Chardonnay
Most of the Chardonnay produces wine of a medium to full-bodied style, with tropical fruit and ripe peach flavours.
Top varieties grown in Adelaide Plains

Climate
The climate is hot and rainfall is extremely low during the growing season, so viticulture is made possible by irrigation and summer's south-westerly sea breezes.
The growing season rainfall of only 192 millimetres (7.56 inches) is as low as in any Australian region.
The compensation is a climate in which it is very easy to ripen large crops of grapes in a virtually disease-free environment.

Soil
There are two soil types. The most common is the ubiquitous red-brown loamy sands found through so much of south-eastern Australia, with alkaline subsoils and free limestone at deeper levels. These are excellent viticultural soils that readily support the typically high yields of the region.
There are also smaller patches of heavier loam and cracking clay soils which are very different in structure but, once again, tend to alkalinity rather than acidity, promoting vigorous vine growth.
Stay in touch with Wine Australia