The Currency Creek wine region is located south of the city of Adelaide in South Australia, stretching from the coastal village of Port Elliot in the west to Lake Alexandrina in the east. The GI region is 469 km2 in size and has a total of 1032 hectares of vineyards.
The strongly maritime climate avoids the extremes of hot and cold temperatures and the region has an excellent ground water source, which is readily accessible through bores. The main varieties grown in the region are Shiraz, Cabernet Sauvignon, Sauvignon Blanc, and Merlot.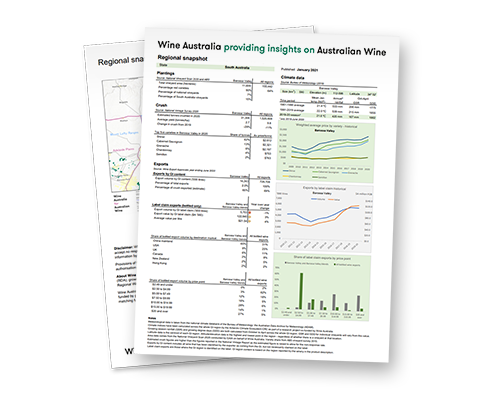 Currency Creek Regional Snapshot 2022-23
Regional Snapshots are one-page profiles updated annually of individual Australian wine regions. They provide at-a-glance summary statistics on: climatic characteristics, viticulture data, winegrape production, and winegrape price and export sales data for wine, compared against the same statistics for the whole of Australia.
Download now
-35.562
Latitude (southernmost point)
Cabernet Sauvignon
A variety ideally suited to the temperate, mild climate of the region, producing complete and rounded wines with clear varietal definition. As the level of ripeness increases, the flavours move from coffee to blackberry and on to black currant at optimum ripeness.
Sauvignon Blanc
This was one of the wines to bring attention to Currency Creek in the early days. The wines have delicacy and freshness, with great varietal definition.
Top varieties grown in Currency Creek

Climate
The climate is slightly cooler than that of Langhorne Creek and shares similarities with Margaret River and California's Carneros. In common with those regions, it is a strongly maritime climate due to Lake Alexandrina and the Southern Ocean, thus avoiding extremes of cold or heat.
There has been only one September day of frost in the past 37 years, and no hail or fog.
Excellent ground water is readily accessible through bores and this is used during the growing season to compensate for the lack of rainfall.

Soil
Plantings are on the dominant rolling sandy slopes, which allow easy infiltration of water into the overlaying friable cracking clays that are easily accessed by the roots of the vines.
The other suitable soils are loams with red alkaline clayey subsoils.
Stay in touch with Wine Australia