Padthaway was established as a viticultural region in 1963. Since then the region has proved to be an excellent white wine producer and a good red wine area.
Padthaway is a picturesque township in the Limestone Coast where rows and rows of vineyards, interspersed with majestic gum trees, thread down either side of the Riddoch Highway.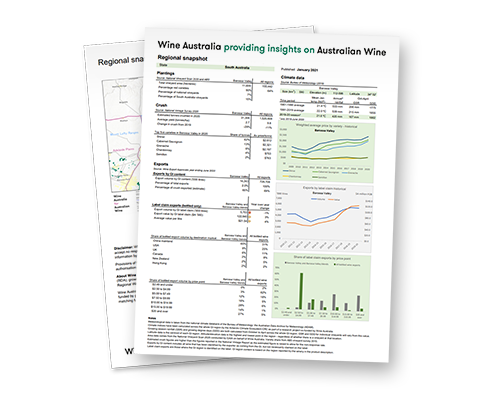 Padthaway Regional Snapshot 2022-23
Regional Snapshots are one-page profiles updated annually of individual Australian wine regions. They provide at-a-glance summary statistics on: climatic characteristics, viticulture data, winegrape production, and winegrape price and export sales data for wine, compared against the same statistics for the whole of Australia.
Download now
-36.945
Latitude (southernmost point)
Cabernet Sauvignon
Released either as a single varietal or blended with Merlot, the wine is typically of medium body with cool climate characteristics to the fore. The tannins are fine and soft and the wine does not need significant oak influence. The wines are approachable young but have the potential to age for many years. As with much of the wine from Padthaway, it is often blended with wines from other regions.
Chardonnay
Historically Chardonnay has been recognised as the most successful of the wines from Padthaway. There is a particular regional character to the fruit flavour which is strongly reminiscent of grapefruit. Other flavours include conventional notes of melon, fig and white peach.
Top varieties grown in Padthaway

Climate
Given the absence of any significant mountains, a maritime climate generally prevails.
The region's original bias towards white wines is surprising given that it is significantly warmer than Coonawarra to the south, with more sunshine hours, lower rainfall and fewer rain days.
Water availability is a severely limiting factor in an area of otherwise vast potential and irrigation is essential.
Spring frosts are a major threat.

Soil
Subtle differences in slope and elevation are important as an indication of soil changes.
In a 1944 CSIRO report the soil of the region was described thus: "The soil type which occurs in numerous small patches consists of a brown sandy loam over red-brown clay over limestone. This soil type is very variable in depth and there are usually some stony portions on each of the small patches in which it occurs. It is a terra rossa soil... the deeper sites of the terra rossa soils should make first class garden soils."
Stay in touch with Wine Australia