Grapes were first planted in Wrattonbully in the late 1960s, but it was not until the 1990s that the excellent soils and elevated sites attracted many winemakers. Hardworking farming pioneers settled the Wrattonbully region in 1842, and today the area is still known for its world-class prime lamb, beef and pasture seed productions.
The potential promised by the large tracts of outstanding terra rossa soils over limestone is now being realised, as these vineyards mature and winemakers understand the unique characteristics of Wrattonbully fruit. Limestone caves are a feature of the area, and the Wrattonbully region is home to the World Heritage Listed Naracoorte Caves.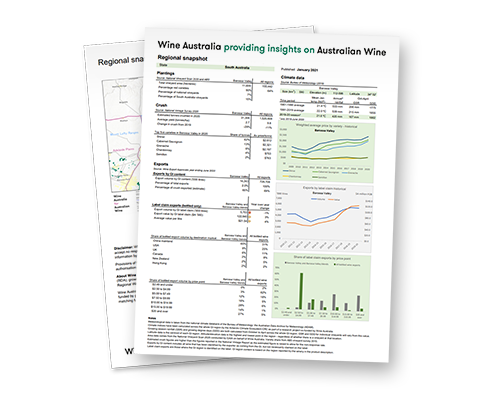 Wrattonbully Regional Snapshot 2022-23
Regional Snapshots are one-page profiles updated annually of individual Australian wine regions. They provide at-a-glance summary statistics on: climatic characteristics, viticulture data, winegrape production, and winegrape price and export sales data for wine, compared against the same statistics for the whole of Australia.
Download now
-37.227
Latitude (southernmost point)
Cabernet Sauvignon
This variety easily dominates plantings in the region. It produces fruit flavours of dark berries and intense black currents and has firm tannins.
Chardonnay
Although Wrattonbully is know mainly as a red grape area, Chardonnay of great character and juicy lemon flavour, with good acid structure, is produced.
Merlot
The Merlot produced is soft, rich and fruit driven, with good power, flavour, deep colour and exceptional tannin structure.
Shiraz
Shiraz is the second most widely planted variety in Wrattonbully. Medium to full bodied spectrum and intense aromatics with spice, pepper and licorice.
Top varieties grown in Wrattonbully

Climate
Wrattonbully has an inland maritime climate that is ideally suited to the growing of premium wine grapes. Reliable winter rains fill the soil profile giving the vines an idealic start to each new season.
Throughout the growing season Wrattonbully experiences cool nights and warm days, perfect for slow and even ripening of the fruit. This results in fruit with great intensity of flavour and with balanced tannins.
A point of difference for the region is its gently undulating rises throughout which have permitted the establishment of vineyards at elevations of 75 to 100 metres. This facilitates cold air flows and combined with the elevation provides a significant measure of frost protection.

Soil
The prized red terra rossa soils are exceptionally well structured and inherently fertile, supplying a balanced release of essential nutrients.
Evolving from deposits of sedimentary clays on ancient flood plains and marine landscapes, the soils are rich in minerals such as calcium and potassium.
The more favorable soils are commonly loam over clays, gradational clay loams and shallow red loams over calcreted limestone. Weathering and time have worn the calcium saturated clays into friably aggregated root zones that are deep, stable and productive.
Stay in touch with Wine Australia