The Alpine Valleys is a wine region situated in the north-east of Victoria and its neighbours are the Beechworth and King Valley regions. The region has one of the highest levels of annual rainfall, second only to parts of Tasmania.
The GI is 3,629 km2 in size and has a total of 260 hectares of vineyards. The main varieties grown in the region are Prosecco, Chardonnay, and Pinot Noir.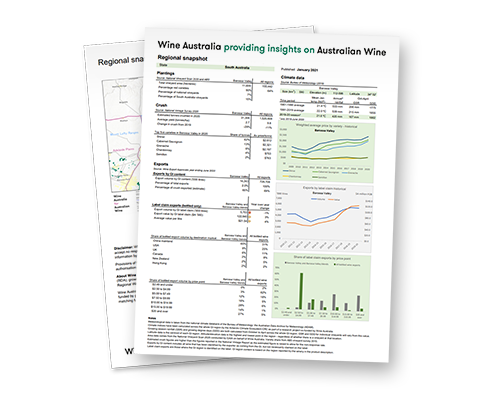 Alpine Valleys Regional Snapshot 2020-21
Regional Snapshots are one-page profiles updated annually of individual Australian wine regions. They provide at-a-glance summary statistics on: climatic characteristics, viticulture data, winegrape production, and winegrape price and export sales data for wine, compared against the same statistics for the whole of Australia.
Download now
-36.983
Latitude (southernmost point)
Cabernet Sauvignon and Shiraz
Full-bodied, earthy red wines are produced at lower altitudes. These wines can be rustic, savoury and full flavoured.
Chardonnay
Produced for sparkling and table wine, the style depends in part on the altitude which it is grown. For use as a sparkling wine, the grapes will usually come from higher altitude vineyards. These wines are growing in reputation. Many producers have also produced consistently well-flavoured and structured still wines.
Merlot
This is a variety that is planted primarily in vineyards of higher elevation. The elevation gives these wines a sense of elegance and refinement.
Top varieties grown in Alpine Valleys

Climate
As with all alpine areas, the climate is strongly Continental, with spring frost the major viticultural hazard, followed by autumn frost prior to harvest.
Site selection on hillsides with good airflow minimises the level of frost risk.

Soil
The soils in the four major valleys are all formed on river deposits from similar rocks – mostly granite from the Ordovician period.
Although many different soil subtypes exist in the region, ranging from sandy loams to red-brown duplex soils, all have good structure.
The common feature is above-average fertility, which promotes generally high yields which must be carefully controlled on some sites to ensure optimum quality.
Stay in touch with Wine Australia