The United Kingdom (UK) has always been Australia's number one destination for wine by volume. The close and stable relationship Australian wine has with the UK market is representative of the close ties between the two countries.
The majority (80 per cent) of Australian wine exports to the UK are sent in bulk containers. However, the latest export figures show that the increase in export value is spread across both bottled and bulk, increasing by 5 and 14 per cent respectively.
Examining exports by price point (see Figure 1), much of the growth has come at below $5 a litre. There are shifts in business practices that are influencing these figures. First, with the easing of the currency volatility that came with the Brexit decision, some brands are returning to bottling in Australia, resulting in a shift of value from bulk at under $2.49 per litre to bottled exports at $2.50–4.99 per litre. Secondly, the increase in value at $2.49 and under is influenced by some businesses shifting bottling to the UK from other countries in Europe. It is also understood that the big supermarket retailers have started to accept some price increases at the commercial end of the market.
Figure 1: Exports to the UK by price point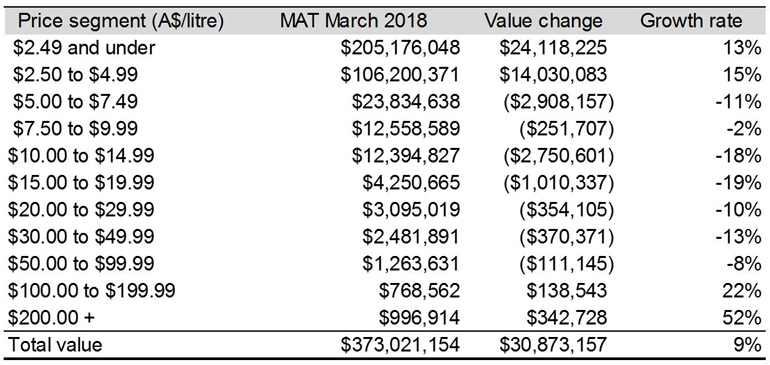 Positive signs of growth
It is evident that the market for premium wine in the UK remains a challenge for Australian wine producers. Exports priced $10 per litre and above declined by 14 per cent in the last 12 months to $25 million. Economic instability, retailer consolidation and tax hikes are affecting demand for premium Australian wine in the UK.
However, Australia's big two varieties are showing very positive signs in the UK. Bottled Shiraz exports climbed 8 per cent to $44 million, while bottled Chardonnay increased by 20 per cent to $35 million. The growing preference for elegance has seen the continued rise of Pinot Noir, with exports growing by 21 per cent to $4 million. Furthermore, alternative varieties are attracting new customers. For example, exports of Viognier/Roussanne more than quadrupled in the last 12 months to $1.2 million.
Upside for Australia in the off-trade
Australia's long-standing position as the number one country of origin in the off-trade continues, with value of wine sales increasing by 3 per cent in the year ended March 2018 to £1.19 billion (IRI Worldwide). Although Australia's market share at price points above £8 is small, growth rates at these price points are outpacing the market (see Figure 2), revealing upside available for Australian producers.
Figure 2: Volume change % by price point
Source: IRI Worldwide
A 'perfect storm' in the on-trade
According to a recent report by Wine Intelligence, the UK on-trade market is experiencing a 'perfect storm', caused by uncertain commercial conditions, and the increase in food options to consumers, including new take-away delivery options and meal-at-home kits. Deliveroo, a take-away delivery service, is growing at a month-on-month rate of 25 per cent, while companies such as Hello Fresh are providing an alternative to casual eating out options. However, consumers are still willing to pay more for a bottle of wine in the on-trade and more willing to try alternative varieties. The increase in appeal of smaller serving sizes such as wine by the glass or half bottles is reflecting consumers' dining choices and desire to try a variety of assorted styles and drinks. Australia remains in third position in the on-trade channel, behind Italy and France.
For producers currently exporting to the UK
Flinders University, the University of South Australia (UniSA) and the Australian National University are conducting a research study for Wine Australia looking at how to help producers increase wine export sales to the UK and/or the United States of America (USA).
We would greatly appreciate the co-operation from producers currently exporting to the UK and USA as we want to hear about your experience of exporting and learn about your current business relationships with American and UK export partners.

If you are approached by an independent research company on behalf of Flinders University and UniSA to participate, please show your support by agreeing to complete the anonymous survey. If you have any queries, please contact jo.hargreaves@wineaustralia.com.
---
Stay in touch with Wine Australia