Australian wine exports continue to experience strong growth in both value and volume, with an increase of 11 per cent in value to $2.71 billion and 5 per cent in volume to 842 million litres (or 94 million 9-litre case equivalents) in the year ended 30 September 2018.
Shipments of bottled wine increased by 8 per cent in value to $2.16 billion and 2 per cent in volume to 366 million litres (41 million 9-litre case equivalents). Shipments of unpackaged wine also grew strongly, with a 23 per cent increase in value to $525 million and a 9 per cent increase in volume to 468 million litres.
There were also increases in the average value of wine exported, with a 7 per cent increase for bottled wine to $5.90 per litre, a 13 per cent increase of unpackaged wine to $1.12 per litre and a 5 per cent increase of all wine exported to $3.21 per litre.
Exporter performance
The growth in the number of exporters continued in this 12-month period, with the number of active exporters increasing by 14 per cent to 2401. There were 1665 companies that contributed $476 million to the growth in exports by increasing shipments or commencing exporting. This growth was partially offset by those exporters who decreased their shipments or ceased exporting altogether; exports by these 1207 companies declined by $210 million in value.
Figure 1: Number of exporters, new vs. existing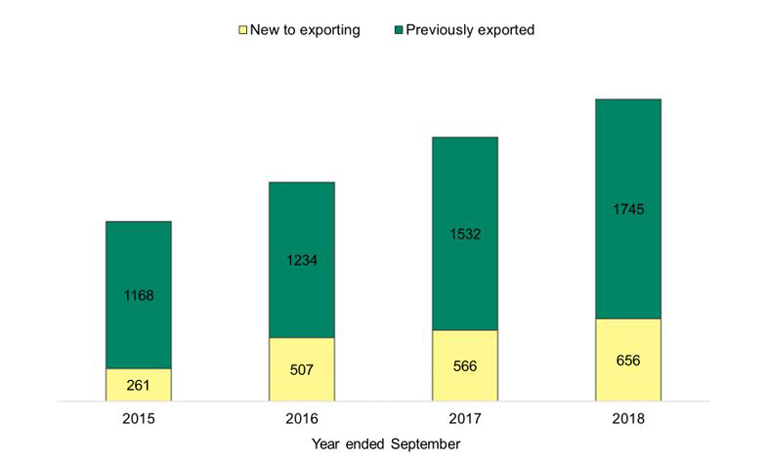 As illustrated in Figure 1, the number of new exporters who have never before exported continues to grow. New exporters accounted for 18 per cent of exporters in the year ended September 2015; by September 2018 new exporters accounted for 27 per cent of all exporters.
Price segments
Healthy growth across the price spectrum continued in the last 12 months. Exports above $10 per litre increased by 20 per cent to $804 million, with the $20 to $29.99 segment in particular showing considerable growth. Below $10 per litre, the $5 to $7.49 segment was the star, growing by $50 million.
Figure 2: Exports by price segment (million AUD FOB)
Destinations
Exports grew to all but one of the major destination regions. The standout growth of 24 per cent was experienced in Northeast Asia, where exports grew to $1.14 billion in value, while in North America, a $16 million increase in exports to Canada only partially offset a $38 million decline in exports to the United States of America.
Regions in growth:
Northeast Asia, by 24 per cent to $1.14 billion
Europe, by 5 per cent to $604 million
Southeast Asia, by 5 per cent to $170 million
Oceania, by 21 per cent to $105 million, and
the Middle East, by 41 per cent to $30 million.
Further analysis can be found in the full Export Report, available to levy-payers here.
---
Stay in touch with Wine Australia