Australia is the biggest market for Australian wine, but how does it compare with other wine markets in terms of opportunities?
In this week's Market Bulletin, we take a look at current conditions in the Australian wine market and its advantages and disadvantages for local wine producers.
Australia as a global wine market
According to Wine Intelligence[1], Australia is the world's tenth most attractive wine market. Wine Intelligence analyses wine markets based on a number of economic and wine-specific measures. The measures are given a score and weighted according to their significance.
Australia scores relatively highly on GDP (gross domestic product) and GNI (gross national income) per capita and is sixth in the world on the StarMac index (a proxy for a globalised economy). In terms of wine market measures, it is particularly strong on wine consumption value.
International Wine and Spirits Record (IWSR) data[2] shows that Australia is the tenth largest wine consuming country in the world and ranks eighth for per capita consumption. Importantly, it is a relatively high value market, with the eighth highest average value of still wine of the top 20 wine consuming countries (see Figure 1).
Australia has also been part of the global premiumisation trend in mature markets, with value growth exceeding volume growth as consumers switch to higher value products.
Figure 1: average retail value of still wine by country (top 20 wine-consuming countries) 2017
Source: IWSR
Australian wine's home ground advantage
Aside from being a high value wine market, Australia has a number of specific advantages as a market for Australian wine. It is stating the obvious to note that consumers speak the same language and share a common culture with the wine producers, the freight distance is shorter than to any other market and there are zero tariffs on Australian wine in the market. Most importantly, Australian wine has an 83 per cent share of the market. Australia doesn't dominate any other market in the same way. After New Zealand (where Australia has 73 per cent of the market), the next highest market share is Malaysia, where Australia has a 37 per cent share (see Figure 2).
Figure 2: extract from the Market Explorer showing wine markets sorted by Australia's share of imports
| | | | | | |
| --- | --- | --- | --- | --- | --- |
| Rank | Market | Imported volume (9L cases) | Imported share | Australia's share of imports | Domestic share |
| 32 | New Zealand | 2.6M | 25.2% | 73.3% | 74.8% |
| 51 | Malaysia | 0.8M | 100.0% | 36.6% | 0.0% |
| 63 | Indonesia | 0.5M | 74.8% | 34.8% | 25.2% |
| 41 | Singapore | 1.2M | 100.0% | 33.1% | 0.0% |
| 65 | India | 0.4M | 25.3% | 32.7% | 74.7% |
| 45 | Thailand | 1.2M | 97.2% | 30.4% | 2.8% |
The downside of down under
Like most mature wine markets, Australia has declining per capita consumption and low population growth, leading to an overall decline in market volume. According to IRI MarketEdge, the volume of Australian wine sold in the off-trade in Australia in the year-ended February 2019 declined by 1.6 per cent.
One of the factors driving the decline is increasing competition from imported wines. Sales of imported wine in the off-trade grew by 2.6 per cent in volume over the same time period (Figure 3) – mainly driven by wines from New Zealand (Marlborough) and Italy (Veneto).
Figure 3: volume change for Australian and imported wine in the year ended 3 Feb 2019
Source: IRI MarketEdge
In the on-trade, the share of imported wine is higher than in the off-trade. Statistics from eBev[3] (a wine sector trade portal and digital marketplace for on-premise) indicate that imports make up 34 per cent of on-premise wine orders, compared with 16 per cent of off-trade (retail) wine sales.
Research by Wine Business Solutions[4], looking at wine listings, shows that imported wines are particularly popular in the eastern states of Australia, while all states offer something of a 'home ground advantage' to listings of wine from their local wine regions (see Figure 4).
Figure 4: share of wine listings by origin and market in the on-premise
Source: Wine Business Solutions
Another factor driving the reduction in sales volume, as mentioned above, is declining per capita consumption. Recent Wine Intelligence research[5] found that the overall number of regular wine drinkers in Australia has decreased by 10 per cent, and the number of weekly wine drinkers has dropped from 8.5 million in 2010 to 7.4 million in 2018 (Figure 5).
Figure 5: changes to the wine drinking population in Australia 2010 to 2018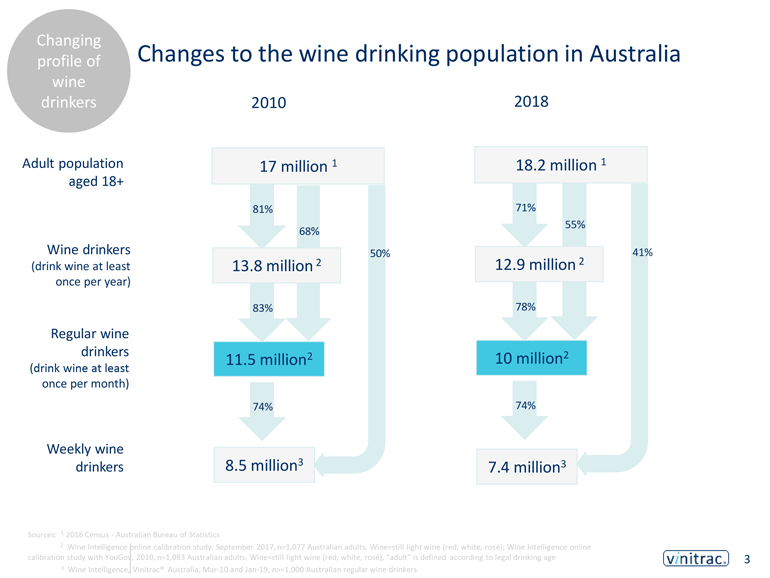 Source: Wine Intelligence
This effect is mainly a result of two trends: a decline in the number of younger female 'regular wine drinkers'[6], and a decline in the proportion of older regular wine drinkers who drink wine more than once a week. These trends in turn are driven by younger drinkers, in particular, embracing a broader repertoire of alcoholic beverages rather than just wine, while all age groups state that they are actively reducing the amount of alcohol they consume. Unfortunately for the wine sector, they are much more likely to switch to a non-alcoholic option (41 per cent) than a lower alcohol wine (17 per cent).
Opportunities in the domestic market
Although volume is decreasing, opportunities exist in the domestic market. Premium price segments are growing at the expense of lower price segments, providing opportunities particularly in the $15–20 and $20–30 per bottle categories (see Figure 6).
Figure 6: change in volume by price point for year ended 3 Feb 2019
Source: IRI MarketEdge
In addition to the premiumisation trend, wine drinkers are also changing their habits. Wine Intelligence found that the frequency of on-premise wine consumption (mainly in casual settings) is increasing, food matching is becoming a more important choice cue driving choice of wine, and people are drinking a wider range of varieties – particularly reds. eBev statistics support this last finding. While the top five varieties account for 84 per cent of all orders of white wine, the top five only account for 68 per cent of red wine orders. Sales of Pinot Noir, Pinot Gris and Pinot Grigio are all over-represented in the on-trade compared with the off-trade, while Prosecco continues to be extremely strong in the sparkling category (see Figure 7).
Figure 7: top 5 varieties ordered by on-premise venues in 2017–18
Source: eBev
Uniquely Australian
Another area of opportunity is in cellar door and direct-to-consumer sales. This channel is estimated to account for 10 per cent of total domestic sales volume, and it represents over 50 per cent of revenue for half of Australia's winemakers (those producing up to 5000 cases per year). This channel provides opportunities for combining wine sales with experiences, food-matching and customised wine offerings through wine clubs. These are all opportunities aligned to the preferences of the all-important next generation of wine consumers and are also opportunities only available to Australian winemakers in the Australian market.
The eBev Annual Beverage Index 2017-18 can be downloaded here free of charge.
---
---
Previous Market Bulletins
Stay in touch with Wine Australia