Canada is the 12th largest wine market in the world and Australia's third largest export market, in both volume and value. The wine market has experienced significant change over the past three years, as reported in Wine Australia's newly released Market Update: Canada report.
Economy in recovery post-COVID, but inflation will dampen growth
The Canadian economy, like other economies around the globe, did not come out of 2020 unscathed. Gross Domestic Product (GDP) reduced by 5.2 per cent in 2020, a higher rate than their neighbours to the south (the United States economy shrank by 3.5 per cent in 2020). The government implemented generous stimulus packages in the face of the slowing economy and rising unemployment. In 2021, GDP rebounded to grow by 4.6 per cent.
However, inflation in Canada has increased from 5.1 per cent in January 2022 to 8.1 per cent in June 2022. In July 2022, the Bank of Canada, hoping to rein in this inflation, raised interest rates to 2.5 per cent, an increase of 2 percentage points since January 2022. This is one of the steepest increases in major economies (see Figure 1) and the largest increase for Canada in more than 20 years. Increasing inflation and interest rates will decrease the amount of disposable income available to consumers and thus may affect their spend on products such as alcohol, Inflation may also contribute to higher prices of wine on the shelf.
Figure 1: Inflation and central bank interest rates, key economies 2022
Source: Statista
One of the drivers of inflation is supply chain disruptions. In a recent example, the Liquor Control Board of Ontario (LCBO) has announced that freight rates will approximately double for wines coming from outside North America, starting in September 2022.
Wine consumption down from 2020, but up from 2019
After growing by 5 per cent in 2020 – due to increased per capita consumption during the pandemic – the volume of still, sparkling, and fortified wine consumption declined by 4 per cent in 2021 to 49 million cases in total. However, this is still 2 per cent above total wine consumption in 2019. In contrast, the retail value of wine managed to grow further from 2020, by 0.2 per cent to US$6.2 billion.
Premium wine sales in Canada (defined as C$14 per bottle and above by IWSR) have a 33 per cent volume share of the market. In 2021, premium wine sales grew by 4 per cent in volume and are forecast to grow by 2 per cent each year to 2026. Meanwhile, commercial wine declined from the elevated consumption in 2020 by 7 per cent and is expected to decline by 1 per cent on average over the next 5 years. The different performance of the premium and commercial segments means that premium wine is expected to reach a 37 per cent share by 2026.
Imports have a 75 per cent value share of the Canadian wine market and total value growth is forecasted to be driven by imported wines. Increased consumption in 2020 benefitted both local and imported wines, but the return to a more normal level of consumption in 2021 has had a disproportionally negative effect on locally produced wines (see Figure 2).
Figure 2: Value of wine consumption, imported vs local

Source: IWSR
In the past 5 years, premium imported wines have been driving growth in the market (mainly from France, Italy, and Spain), and this is forecast to continue. Premium price segments had a 41 per cent share of imports in 2021 and this is expected to reach 45 per cent in 2026 (translating to 3 per cent volume growth each year), at the expense of commercial segments. Premium wines have a 15 per cent share of local production and are expected to grow by 1 per cent each year to 2026, to reach a 17 per cent share.
Conversely, both imported and domestic commercial wines are expected to continue their decline. 2020 resulted in a temporary increase in the consumption of these wines, but 2021 saw that ease dramatically (see Figure 3).
Figure 3: Volume of imported vs local wine, premium vs commercial
Source: IWSR
Unpackaged Australian wine shipments increase, while premium exports are growing slowly
While the value of Australian exports to Canada has been relatively steady over the past decade, volume has changed notably from year to year. Most of the fluctuation in volume has been due to increases and decreases in the volume of unpackaged wine shipments, which is closely aligned to the supply of wine available in Australia. In the past 18 months there has also been significant disruptions in the ability for Australian wine producers to reliably get wine into market due to shipping delays and lack of container availability.
Canada is the third biggest destination for Australian wine by volume and by value. In 2021–22, Australian wine exports to Canada decreased by 5 per cent in value to $174 million but increased 4 per cent in volume to 53 million litres. The increase in volume was driven by a 19 per cent increase in volume of unpackaged exports.
Since 2014, there has been an elevated volume of unpackaged wine shipments when compared to previous years, especially during 2018 and 2019, the two years after the large 2017 Australian vintage. Unpackaged volume has again risen in 2022, following the large 2021 vintage. Up until 2022, the average value of unpackaged shipments was on a slow but steady incline, increasing by 6 per cent each year between 2014 and 2021. However, average value of unpackaged shipments declined by 20 per cent in 2022 to $1.02 per litre.
The average value of packaged shipments has been steadily increasing since 2013, by 2 per cent each year. In the past 12 months, average value increased by 4 per cent to $6.10 per litre. Volume has declined by an average of 4 per cent each year since 2013.
Figure 4: Volume and average value of unpackaged vs packaged shipments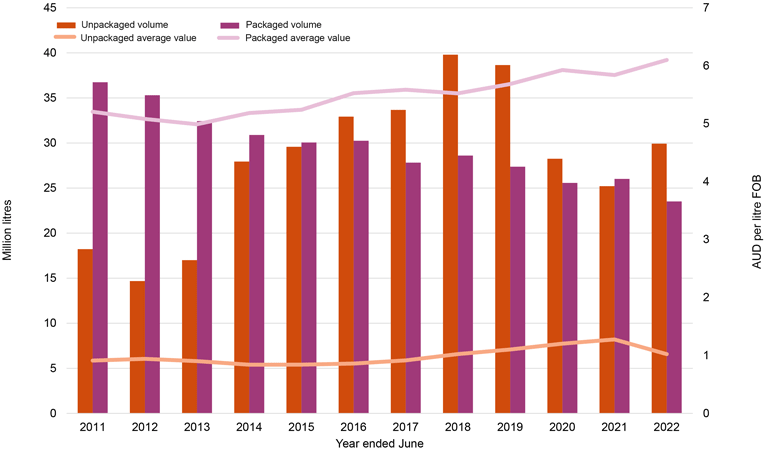 Source: Wine Australia
Since 2013 there has been a slow, gradual trend of increased shipments above $10 per litre FOB. The value of these shipments has increased by 4 per cent on average per annum and further accelerated in 2022 where they increased by 12 per cent to $27 million. This increase has resulted in the value share of these premium exports returning to 16 per cent, a level not seen since 2009.
The number of regular wine drinkers has declined
Canada has a high population growth rate, relative to similar markets. Despite this, the number of regular wine drinkers is declining, according to Wine Intelligence. Weekly wine drinkers made up 49 per cent of the adult population in 2017, that share has now fallen to 38 per cent.
The core reason behind this decrease is the difficulty in recruiting younger drinkers to the category. The loss of younger drinkers is especially apparent in French speaking Canada (Quebec) – where the Gen Z proportion of regular wine drinkers has fallen from 10 per cent in 2017 to 3 per cent in 2022.
According to Euromonitor International's consumer health survey, the younger segments of the population are not just moving away from wine, but alcohol in general. Both male and female consumers under the age of 44 are more likely to be reducing their alcohol consumption than other age cohorts.
Canada comes in as the eighth most attractive wine market in the world, according to the Wine Intelligence Global Compass 2022. Market attractiveness is determined by scoring the markets on economic and wine market measures. Wine Intelligence ranks Canada highly when it comes to the potential for wine consumption growth and market profitability.
---
Previous Market Bulletins
Stay in touch with Wine Australia