What flavours are in favour on the Australian domestic market?
Market Bulletin | Issue 56
Domestic sales of Australian wine increased in value by 7 per cent and in volume by 2.5 per cent in 2015–16, according to Wine Australia's Production Sales and Inventory report.
This growth in the market is reflected in the latest off-trade retail figures. According to IRI MarketEdge Liquor, the value of off-trade wine sales in Australia grew 4.7 per cent in the year ended 5 March 2017.
Sauvignon Blanc remains the number one table wine variety in the domestic market ahead of Shiraz, Chardonnay, Cabernet Sauvignon and Semillon/Sauvignon Blanc. All varieties except Semillon/ Sauvignon Blanc recorded growth during the year.
Bottled red wine was the fastest growing category ahead of Champagne, sparkling wine and bottled white wine. Other categories to record strong growth were Pinot Noir, Shiraz blends, Pinot Grigio, Pinot Gris, Prosecco and rosé.
Australian wines account for just over three-quarters of the value of sales on the domestic market. Imported wines grew at a slightly faster rate than Australian wines however, domestic wines grew at a faster rate than imported wines for wines priced above $15 per bottle.
Regions on the rise
Within the domestic wine category, there was growth in wines from many regions. Those with sales in excess of $25 million and growing were Hunter, Riverina, Adelaide Hills, Barossa Valley, Clare Valley, McLaren Vale, Tasmania, King Valley, and Yarra Valley.
New Zealand accounts for 63 per cent of all imported wines, with France second at 16 per cent (ABS import figures December 2016). Marlborough and Champagne account for almost 80 per cent of imported wine off-trade sales. Regions on the rise but off a relatively small base (<$25 million) include New Zealand's Central Otago and Italy's Veneto.
Popular style descriptors show links with popular varieties
Recent research released by Wine Intelligence provides interesting insights into flavour and variety preferences of wine consumers in Australia. Consistent with the sales data, Sauvignon Blanc was found to be the most popular white variety for Australian regular wine drinkers, with Chardonnay ranked the second favourite.
Within white wines, the researchers found a clear consumer preference for style descriptors of 'easy drinking' and 'fresh'. In comparison, there was a significantly lower preference for descriptors such as 'nutty', 'creamy', or 'bold'.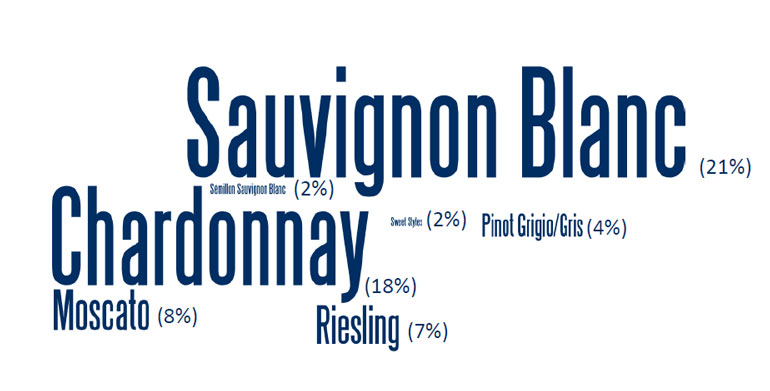 Source: Wine Intelligence, 2017
In relation to red wine, the Wine Intelligence research indicates that Merlot vies with Shiraz for title of Australia's favourite red variety.
Australia wine drinkers see Merlot as suitable for most people and most occasions and, as a result, Merlot is widely, though not necessarily most frequently, consumed in Australia. The IRI data shows Merlot is the sixth biggest selling red variety and it is growing significantly at above $20 per bottle.
The Wine Intelligence research also shows that Shiraz has the strongest awareness-to-usage conversion rate for red varieties, indicating its strong following among Australian wine drinkers. This is supported by the IRI data that shows that Shiraz is by far the biggest selling red variety in Australia and its sales are growing strongly at all price points above $15 per bottle.
Source: Wine Intelligence, 2017
---
Stay in touch with Wine Australia