Key trends in the evolving Chinese wine market
Market Bulletin | Issue 67
Mainland China is one of the world's largest markets for imported wine. With a population of 1.38 billion, a burgeoning middle class and modernising consumers, it presents enormous opportunities for Australian wine brands and businesses. China is rapidly changing and it's important to keep abreast of the latest trends and insights to grow and harness its market potential.
Wine Intelligence's Research Director Chuan Zhou, in his first visit to Australia, presented Wine Intelligence's latest research on China at seminars hosted by Wine Australia in Sydney and Melbourne last week.
Some of the key insights included:
There are now an estimated 48 million urban upper-middle class drinkers of imported wine in China
Growing disposable income, coupled with improving distribution logistics for wine, has enabled access to wine in lower tier cities, supporting growth in imported wine sales
Increasing numbers of consumers are purchasing wine for personal consumption, rather than as gifts, and the flavour of wine is growing in importance as a key driver of wine choice
There is continuing growth in red wine sales, with consumers more typically favouring fruit-styled, softer wine with lower tannin and acidity
There is developing demand for white wine, particularly aromatic whites such as Riesling, Sauvignon Blanc, Chardonnay, Chenin Blanc and Moscato
The evolving market has been driven by a diversifying base of wine consumers, as younger, more experimental and open-minded consumers start drinking wine
Wine preferences vary by region within China. People in the east prefer earthy, rich reds; those in the west favour elegant, soft styles; those in the north look for bold, drier reds; and those in the south prefer smoother red styles
There is an ongoing shift to online purchasing, driven by ease of access to wine information and recommendations, supported by lower prices
There has been an increase in the number of wines available and listed in restaurants and bars, coupled with a reduction in pricing
There is an increasing acceptance of screwcap for wines at lower prices, although there is more resistance for red wine under screwcap for gifting occasions.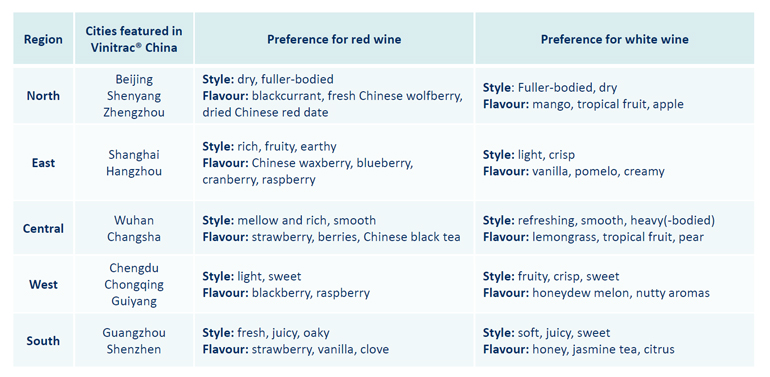 Source: Wine Intelligence, Chinese Wine Market Landscapes Report June 2017
---
Stay in touch with Wine Australia