Among some wine consumers, Grenache may not be as well-known as Australia's major red varieties of Shiraz, Cabernet Sauvignon and Merlot. However, it has a distinguished history in global wine production and writers – including Jancis Robinson and James Halliday – have written about the rise of Australia's fine Grenache table wines. In a 2017 article for the Australian Financial Review, Max Allen said, 'I would like to suggest that if you want a grape variety that most faithfully expresses terroir – that captures the unique combination of country, climate and culture in a glass – then in many cases, in many places, Grenache might be a better option.'
Recent market trends suggest Grenache may also be having a resurgence in popularity among consumers.
Something old
Grenache was one of the original varieties grown in Australia, with plantings starting in the mid-1800s. Until the late 1960s, it was the most widely planted variety in Australia, as it was well suited to the fortified wines that dominated Australian wine production. It was also the second-most planted variety in the world in 1990, but had fallen to seventh by 2010.
The emergence of table wines from the 1960s saw Grenache fall out of favour, and in fact plantings of this variety in Australia have been declining gradually since the 1980s, when the South Australian vine pull scheme saw the removal of many 100-year old Grenache vines. Over the same period, plantings of Shiraz, Cabernet Sauvignon and Merlot have increased dramatically (see figure 1). Grenache now accounts for around 1 per cent of Australia's vineyard area, compared with nearly 20 per cent in 1956. Almost all the plantings are in the South Australian regions of the Riverland, Barossa Valley, McLaren Vale and Langhorne Creek. South Australia is believed to have the oldest productive plantings of Grenache in the world.
Figure 1: plantings of red varieties in Australia 1985–2015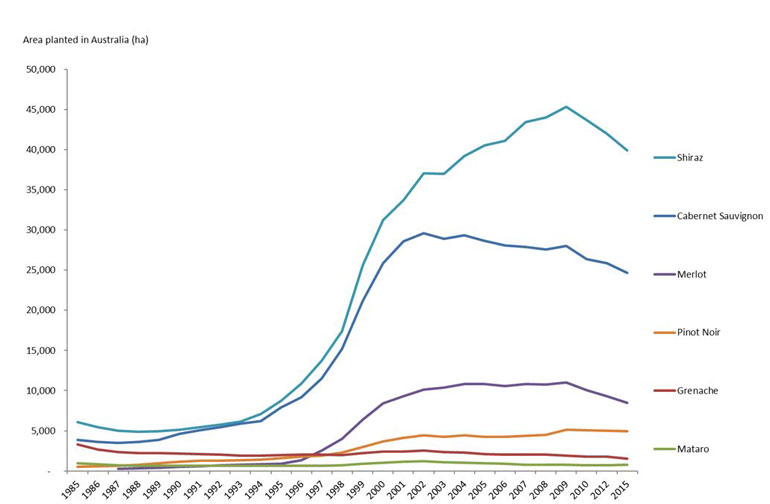 Source: ABS
Something new
There are signs that Grenache's star may again be on the rise. In 2017, a year when off-trade wine sales overall were flat in volume terms and increased by just 2 per cent in value terms, Grenache blends (in the red bottled category) grew by 19 per cent in value and 24 per cent in volume1. Grenache as a straight variety on the other hand decreased by 1 per cent in value – reflecting the change in the way this variety is being used by winemakers.
On export markets, the top five Australian label claims with Grenache are Shiraz/Grenache, Grenache/Shiraz/Mourvedre, Grenache/Shiraz, Shiraz/Grenache/Mourvedre and Shiraz/Cabernet Sauvignon/Mourvedre/Grenache – again indicating the versatility of this variety. Growth rates in 2017 for Grenache and Grenache blends to its top 10 markets have been very impressive – with the exception of Canada and New Zealand (see table 1).
Table 1: growth in exports of Grenache and Grenache blends by destination market in 2017
| Market | Growth YA |
| --- | --- |
| Mainland China | 73% |
| United Kingdom | 45% |
| United States of America | 17% |
| Canada | -13% |
| New Zealand | -31% |
| Finland | 176% |
| Germany | 149% |
| Japan | 70% |
| Sweden | 8% |
| Hong Kong | 19% |
In mainland China and the United Kingdom (UK), Grenache over-indexes compared with all varieties. For example, the UK accounts for 12 per cent of all Australia's bottled wine exports, but 22 per cent of exports with a Grenache or Grenache-blend label claim.
Something different – a rosé-y outlook
Another opportunity for Grenache is in rosé wines. Grenache is one of the most commonly used varieties in this wine style, which has shown dramatic recent increases in popularity.
On the domestic off-trade market, the bottled still rosé category grew by 59 per cent in value in 2017, while sparkling rosé grew by 8 per cent2. Exports from Australia of still rosé fell by 4 per cent in volume, but grew by 20 per cent in average value per litre – indicating a significant change in the type of rosé being exported. More than half of Australian still rosé exports went to the UK, where volumes fell by 14 per cent, but value per litre increased by 8 per cent. Meanwhile sparkling rosé exports grew by 11 per cent in value. The main markets for sparkling rosé were Canada and New Zealand, which grew by 25 per cent and 91 per cent in value respectively.
1,2IRI Market Edge Liquor
---
Stay in touch with Wine Australia