Australian wine exports to China reach new record
This media release was originally distributed in Chinese. Please download the PDF for the Chinese copy.
---
Australian wine exports to China (including Hong Kong and Macau) have reached a record value of $1.25 billion, an increase of 18 per cent, with average value increasing by 40 per cent to $8.42 per litre FOB in the 12 months to September 2019.
With the total value of Australian wine exports increasing by 7 per cent in value to $2.89 billion, the China market occupies a large portion of this export figure.
Wine Australia Chief Executive Officer Andreas Clark said while the International Monetary Fund had reduced its forecast growth rate for China's economy to 6.1 per cent in 2019, the potential softening of consumer demand was offset by Australia's continued strong performance in the market.
'Global Trade Atlas figures for the year ended August 2019 showed that overall wine imports declined by 11 per cent in value (AUD), which has led to Australia eclipsing France as the number one source by value while Chile is the number one by volume', he said.
Figure 1. China total wine imports by value from top seven countries of origin (MAT)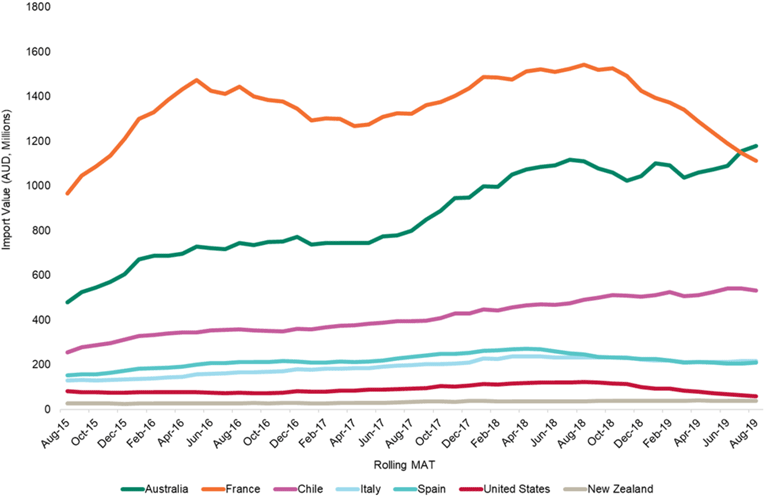 Other positive milestones included the value of exports over $A10 per litre FOB reaching the $1 billion mark for the first time, continued growth in exports to China and encouraging growth in exports to the Netherlands, United Arab Emirates, Denmark, South Korea and Belgium.
Export volumes decreased 8 per cent to 774 million litres (86 million 9-litre case equivalents); the climb in export value and the decline in volume meant the average value increased 16 per cent to $3.74 per litre, the highest level since 2009.
Mr Clark said the growth in value reflected a strong underlying story with growth in all price segments above $5 per litre, with wine shipped at an average value of $A10 per litre and above reaching record levels for both value and volume.
The declines in Australia's overall export volumes are related to a number of factors including:
Australia's 2018 and 2019 vintages were smaller than the record-breaking 2017 vintage, meaning that as vintages roll there is relatively less supply available for shipping overseas
the premiumisation and moderation trends in established wine markets are putting downward pressure on volume and lifting average values, and
international supply pressures have eased with a larger 2018 global vintage, increasing competition in the market.
Figure 2: Exports by price segment (million AUD FOB)
Figure 3: Wine Australia export report overview
---
For media enquiries please contact
Katherine Chen – Wine Australia
PR & Comms Manager – North Asia
Phone: +86 186 2195 1237
Email: Katherine.chen"at"wineaustralia.com
About Wine Australia
Wine Australia supports a competitive wine sector by investing in research, development and extension (RD&E), growing domestic and international markets, protecting the reputation of Australian wine and administering the Export and Regional Wine Support Package.
Wine Australia is an Australian Commonwealth Government statutory authority, established under the Wine Australia Act 2013, and funded by grape growers and winemakers through levies and user-pays charges and the Australian Government, which provides matching funding for RD&E investments.
Stay in touch with Wine Australia