On the second Sunday in May, Australians take the time to honour their mums in celebration of Mother's Day. Mothers all over Australia wake up to breakfast in bed, chocolates and flowers. The flower that symbolises Mother's Day in Australia is the chrysanthemum. The chrysanthemum is also a symbol of the Japanese Imperial family and Emperor.
Japan is a significant market for Australian wine, ranking as the eighth-biggest export destination by volume and value. In the 12 months ended March 2019, exports to Japan grew by 16 per cent to reach a record $55 million (see Figure 1).
While the overall wine market in Japan has declined in volume and value since 2015, after many years of growth, the introduction of the Japan–Australia Economic Partnership Agreement (JAEPA) in January 2015 provided an impetus for Australian wine in the market. Under JAEPA, the import tariff on bulk wine was eliminated immediately while the 15 per cent import tariff on Australian bottled wine will be eliminated over 7 years.
Figure 1: Australian wine exports to Japan (A$ million FOB)
Source: Wine Australia
Concurrently with JAEPA, a generational change in Japan is seeing a new wave of consumers and sommeliers changing the landscape of the Japanese wine market, which may also be benefitting Australian wine companies. According to Wine Intelligence, there are 30 million regular wine drinkers in Japan. Although almost half are aged 55 and over, there has been a significant increase in the proportion of drinkers aged from 20 to 24 (see Figure 2). The new wave of younger wine consumers are more adventurous and increasingly searching for new styles of winemaking and new varieties away from the traditional European styles. A significantly higher proportion of younger wine drinkers aged from 20 to 34 claim that they enjoy trying different styles of wine compared with all Japanese regular wine drinkers. Additionally, younger consumers are more likely to have a broader white and red wine varieties repertoire. Furthermore, the 20 to 24 age group has the highest proportion (60 per cent) of regular wine drinkers with a high involvement in wine compared to 43 per cent for all regular wine drinkers.
Figure 2: Age profile of regular wine drinkers in Japan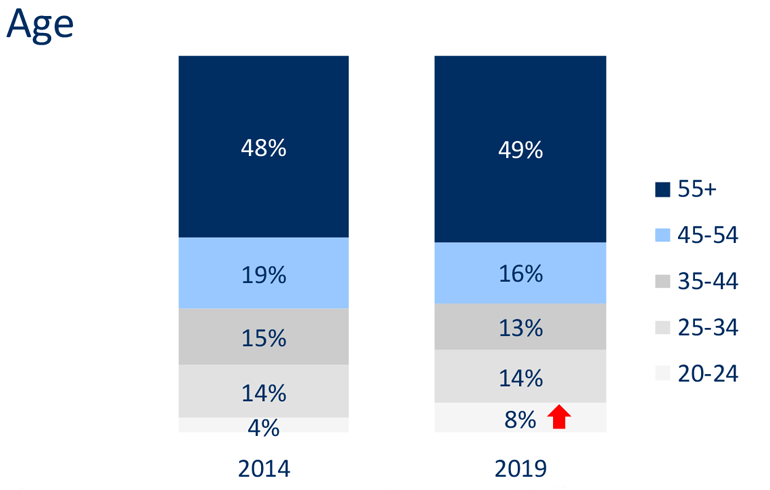 Source: Wine Intelligence, Japan Landscapes March 2019 Report
The evolving Japanese market offers growth opportunities for Australian wine. Australia is currently the sixth largest exporter to Japan by volume and value. French and Italian wine consumption is in decline, while Chilean wine is Japan's top imported wine. Chile has been tariff-free in Japan since 2007 and this provided a significant boost to Chilean wine sales. Chilean wine prices were cut, and the position of inexpensive Chilean wine in the Japanese wine market quickly grew. However, according to Wine Intelligence, trade experts suggest that the relevance of these wines is starting to slow down as consumers are now gravitating away from lower-priced Chilean wine towards higher price points. Inexpensive Chilean wines are struggling to enter the more premium category, a category that regular wine drinkers are more open to buying into in Japan. This provides a valuable insight for Australian wine.
While Australian bulk wine exports have increased almost four-fold to $9 million since the tariff on bulk wine was removed, Australian premium wine exports have also increased. The growth has been particularly strong for Australian exports priced at A$10 or more per litre, which have doubled in value since 2015 to reach $13 million in the 12 months ended 2019. The value share of exports in this price segment has grown in the period from 19 per cent to 32 per cent.
Trading conditions in the Japanese market may also offer further opportunities for growth thanks in part to the buoyant mood and economic benefits from the upcoming 2019 Rugby World Cup and 2020 Summer Olympic Games in Tokyo.
---
Previous Market Bulletins
Stay in touch with Wine Australia