Australian wine: Sommelier insights from USA, UK and Australia
Free webinar: Monday 24 August 14:00 - 15:00 (BST)
24 Aug 2020
Details &
registration
Explore the Aussie wine scene with sommeliers in USA, UK and Australia.
Three top sommeliers – Mia Van de Water MS, Kelvin McCabe and Emma Farrelly – shared their unique perspectives, experiences and stories. They beamed in from New York, London and Perth, whilst Wine Australia's Mark Davidson led the conversation and fielded questions.
Discover what excites the sommeliers about Australian wine, which regions they've visited, and which styles they're pouring, buying or seeking out. Find out about their wine list, what has inspired it and how they see it evolving. Hear about trends in their markets, what their customers are enjoying and what they're asking after.
Speakers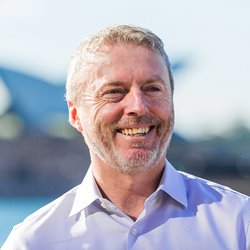 Mark Davidson
Head of Education – Americas, Wine Australia
Born in London and raised in Sydney, Mark has over 35 years of experience in the hotel, restaurant and wine business. During his 15 years as a sommelier, he was named Sommelier of the Year at the Vancouver Wine Festival in 2001 and won the Spirited Industry Professional in 2014. Following his experience as a sommelier, Mark has produced numerous wine education and restaurant etiquette courses. As a Department Head and Instructor with the International Sommelier Guild, he was instrumental in the on-going development of the curriculum and has taught classes in Vancouver, Seattle, Portland, San Francisco, Los Angeles, San Diego and Las Vegas. Mark joined Wine Australia in 2009 and he has been in the Education team since 2013. Outside of his day-to-day role, he is also an annual judge at Texsom International Wine Awards, Sunset Magazine and LA International wine competitions.
Emma Farrelly
Director of Wine at State Buildings & Como The Treasury, Perth
As Director of Wine for the State Buildings & Como The Treasury in Perth, Emma's invaluable insights and industry-wide network enables her to curate unique wine lists for each of the award-winning restaurants at the State Buildings, including Wildflower, Long Chim, Post, Petition Kitchen and Petition Wine Merchant. Emma also creates world-class experiences for the guests of the 48 room luxury hotel. For two years, Emma studied under the guidance of Dr Steve Charters MW. Since then, Emma has worked as a sommelier and consulted on various wine lists and menus, earning her recognition through numerous awards including Gourmet Traveller Wine and her induction into the Ordre des Coteaux de Champagne in 2013. With her finger firmly on the pulse of the wine industry, Emma was selected as a judge for the Young Gun of Wine Awards (2017, 2018), South Australia's Hot 100 (2017, 2018) and was appointed head wine judge for the national 'Drink Easy' awards in 2019. She was awarded 2017 Sommelier of the Year at the WA Good Food Guide awards and Sommelier of the Year at the 2019 Gourmet Traveller Restaurant awards.
Kelvin McCabe
Wine Buyer & Beverage Director at Adam Handling Restaurant Group, London
London-born Kelvin McCabe has been a sommelier for over 15 years with previous roles including Group Head Sommelier UK for Yauatcha, Head Sommelier of Zuma Knightsbridge and Head Sommelier of Roka Charlotte Street. He is a WSET Educator, CMS Certified and Kikisake-Shi (master of Sake). Kelvin is a regular judge for the Sommelier Wine Awards and has judged for the Decanter World Wine Awards. He has been voted the Wine List Confidential Sommelier of the Year 2019 and is Curator of the number one wine list in London for Wine List Confidential 2019 with his wine list in Frog by Adam Handling.
Mia Van de Water MS
Assistant General Manager at Cote Korean Steakhouse, New York
Mia Van de Water is a restaurant industry veteran with a career spanning nearly two decades, including nine years with Danny Meyer's Union Square Hospitality Group where she became the Beverage Director of North End Grill, as well as three years on the sommelier team at Eleven Madison Park, a 3-star Michelin and World's Best Restaurant 2017 (San Pellegrino); she is currently the Assistant General Manager at Cote Korean Steakhouse in Manhattan. She is a highly decorated competitor and sommelier, competing in national and international championships. Her awards include a bronze medal at the 2016 TopSomm Competition through the Guild of Sommeliers and a silver medal at the 2015 Chaîne de Rôtisseurs Jeune Sommelier Competition, which brought her to Adelaide in Australia to compete in the International Final. In 2016, Mia was named one of Food & Wine's Sommeliers of the Year. She passed the Master Sommelier exam (twice) in 2018.