Australian Wine Discovered: ​​​​​​​Virtual Walkthrough
Tuesday, 2 Mar 2021, 12:00-12.30 PM Eastern Time (US and Canada)
02 Mar 2021
Details &
registration
Are you interested in training your team on Australian wines, but don't know where to start? Join Wine Australia's Mark Davidson for our Australian Wine Discovered Virtual Walkthrough.
This is a demo of our free, award-winning education resource, Australian Wine Discovered. Mark walks you through our customizable modules and shows you how to create a compelling training session. Find out what's available, how it works and how you can use these free materials.
With in-depth guides, editable powerpoint presentations, images, maps and videos, Australian Wine Discovered is a fantastic resource - whether you want to train your team, prepare for an event or sell more effectively. The materials are suitable for all levels, from beginner to advanced, and can be tailored to best suit your audience.
Topics cover key regions, grape varieties and other subjects such as old vines and sparkling wine, and the guides provide everything from regional overviews and winery case studies to the latest innovations and research. For each topic, there's a variety of free, downloadable content available to help you put together comprehensive and engaging education and training sessions. This even includes editable tasting lists, tasting mats and certificates of attendance.
Find out more about Australian Wine Discovered in this free, 30-minute walkthrough
Speaker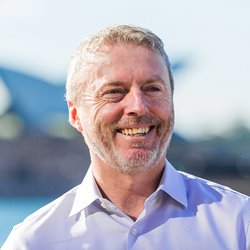 Mark Davidson
Head of Education – Americas, Wine Australia
Born in London and raised in Sydney, Mark has over 35 years of experience in the hotel, restaurant and wine business. During his 15 years as a sommelier, he was named Sommelier of the Year at the Vancouver Wine Festival in 2001 and won the Spirited Industry Professional in 2014. Following his experience as a sommelier, Mark has produced numerous wine education and restaurant etiquette courses. As a Department Head and Instructor with the International Sommelier Guild, he was instrumental in the on-going development of the curriculum and has taught classes in Vancouver, Seattle, Portland, San Francisco, Los Angeles, San Diego and Las Vegas. Mark joined Wine Australia in 2009 and he has been in the Education team since 2013. Outside of his day-to-day role, he is also an annual judge at Texsom International Wine Awards, Sunset Magazine and LA International wine competitions.
Contact
For more information about the Australian Wine Discovered Virtual Walkthrough, please email Christy.Frank@wineaustralia.com.