In an unprecedented show of support for the wine market in the United States of America (USA), the largest-ever promotion of Australian wine in the USA will commence on 17 September 2019, with more than 100 Australian wine exhibitors showcasing 193 Australian wine brands to thousands of trade and consumers across 6 American cities.
The Far From Ordinary Roadshow will travel from east to west across the USA in September and October, engaging in tastings and seminars with American trade in six key wine markets: New York, Chicago, Miami, Dallas, Los Angeles, and San Francisco.
These markets were chosen because of the opportunity they present for Australian wine. Each of these markets consume a greater amount of imported wine compared with the rest of the USA and consequently are the largest markets for Australian wine (see Figure 1).
Figure 1: Australian wine consumption by state
(Source: Impact Databank 2019)
In this bulletin, we discuss some of the highlight statistics for these markets.
New York, New York (19 September)
A city so nice they named it twice! The roadshow fittingly kicks off in the USA's largest city, home to 8.4 million people in 2018. Known for its iconic buildings, yellow cabs, and vibrant culture, New York remains one of the world's greatest financial and social centres. The state of New York is home to nearly 20 million people, with a GDP per capita of US$65,000.
The people of New York consumed just over 24 million 9-litre case equivalents of wine, equating to 15.1 litres per person, in 2018 according to Impact Databank. Perhaps because of its distance from California, or closer proximity to Europe, New York is known for being a market friendly to imported wine, in fact it consumes more imported wine than any other state. Imported wine has a 37 per cent share of the state's wine market (see Figure 2).
Figure 2: Imported vs. domestic wine consumption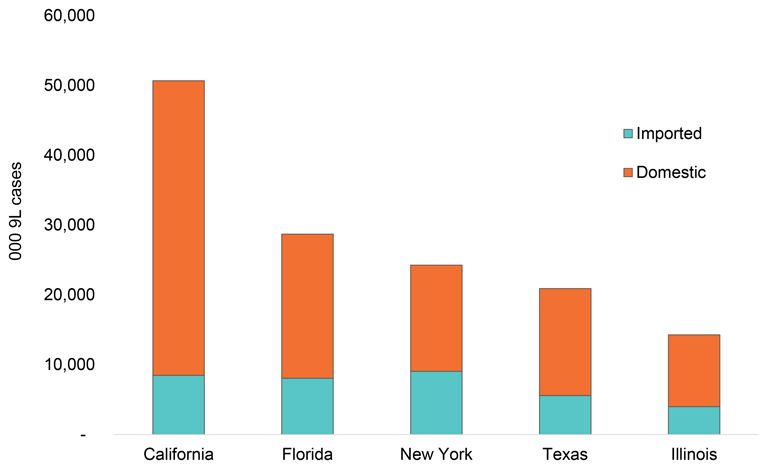 (Source: Impact Databank 2019)
Wine Intelligence ranked New York as the second most attractive USA state for domestic and imported wine sales in 2018, due to its high income per person and its above average rate of wine consumption.
In the year ended June 2019, Australia exported 1.5 million 9-litre case equivalents to New York, valued at A$52 million FOB. This represented a 9 per cent volume share (12 per cent value share) of all Australian exports to the USA. All liquor in the New York off-trade must be sold through licensed liquor stores and the value of wine in this channel grew by 2 per cent to US$1.4 billion in the year ended June 2019 (IRI Worldwide). The value of Australian wine sold during this time declined by 3 per cent to US$45 million, with growth at higher price points unable to outweigh declines at the lower end.
Chicago, Illinois (23 September)
From New York, the roadshow moves on to The Windy City, Chicago. Home to deep-dish pizzas, Oprah, and the only river in the world to flow backwards, Chicago is known for the innovative and hardworking nature of its 2.7 million residents. The state of Illinois has nearly 13 million residents and a GDP per capita of US$54,000. Their rate of wine consumption is moderate compared to New York (see Figure 3), each adult consuming around 13.6 litres per year, resulting in 14 million 9-litre cases consumed in 2018.
Figure 3: Per capita wine consumption (Litres/person/year)
(Source: Impact Databank 2019)
Wine Intelligence ranked Illinois the sixth state for total wine attractiveness in the USA, but fourth for imported wine, due to its above average share of imported wine sales (28 per cent). Australian wine sales in the Chicago on-trade increased by 10 per cent to US$12 million in the year ended June 2019, giving Australian wines an 8 per cent market share in the city (Nielsen/CGA).
Miami, Florida (25 September)
After Chicago, the roadshow heads south to the USA's warmest location during the winter months – Miami. Nearly half a million people reside among the pristine beaches and Art Deco architecture, making it the second largest city in Florida after Jacksonville. Florida is home to 21 million people. It is a popular retirement destination, meaning that it has a higher proportion of residents over the age of 65 (20 per cent in 2018) than the rest of the country (16 per cent). This share is forecast to reach 25 per cent by 2045 according to University of Florida projections.
Despite its higher proportion of retirees – or perhaps because of it, Florida is second only to California is terms of wine consumption, drinking 29 million 9-litres cases in 2018 (see Figure 2). Per capita GDP is much lower than the other target markets, however, at US$40,000. In the face of relatively poor economic measures, Wine Intelligence still ranks Florida as the third most attractive wine market in the USA.
Of the five states analysed here, Florida was the only one to experience growth in Australian wine exports in the year ended June 2019 (see Figure 4). The value of wine exports to Florida increased by 16 per cent to A$41 million.
Figure 4: Value of Australian exports by state
(Source: Wine Australia's Export Approval System)
Dallas, Texas (27 September)
The Lonestar State is home to 29 million people, making it the second most populous state in the USA. Dallas is the third largest city in the state, with 1.3 million residents. Texas is the largest state by area in the contiguous USA and is known for numerous large icons: a 17-metre cowboy called 'Big Tex' welcomes visitors to the State Fair; Dallas Fort-Worth Airport is bigger than the island of Manhattan; and the Dallas Cowboys' Stadium could fit the entire Statue of Liberty with the roof closed.
However, the people of Texas do not have large drinking habits compared to the other key markets. Although their total wine consumption was nearly 21 million 9-litre cases in 2018, their population is more than twice that of Illinois, meaning that each person drinks much less (9.9 litres per person per year). This is the case with many of the states in the center of the country, which tend to be a lot more conservative in their drinking habits than the coastal regions (see Figure 5).
Figure 5: Per capita wine consumption by state
(Source: Impact Databank)
Wine Intelligence ranks Texas fourth in total wine market attractiveness, but sixth for imported wine. However, Texas has a higher awareness of Australian wines than the other key markets and the national average (see Figure 6).
Figure 6: Australian country of origin awareness by state
(Source: Wine Intelligence)
Los Angeles and San Francisco, California (1 and 3 October)
Saving what is widely agreed to be the biggest and most attractive wine market in the USA for last, the roadshow heads to California in October. California's GDP is ranked fifth in the world on its own, after Germany and ahead of the United Kingdom.
The Golden State is home to 40 million residents, meaning 1 out of 12 USA residents lives there. It is ethnically diverse, with one quarter of its population born outside the USA. The state also contains the lowest and highest geographical points in the contiguous USA – Death Valley and Mount Whitney respectively. Although the GDP per capita is not as high as New York's at US$59,000, with Hollywood and Silicon Valley within its borders there is plenty of wealth around.
Californians love wine; they drink 51 million cases of it a year, well ahead of second placed Florida. The one thing that counts against imported wine in California is the strength of the domestic category, since most American wine production takes place in the state. However, the sheer volume of wine consumption in California and the relative ease and integrity of business dealings, makes it the most attractive state for both domestic and imported wine, according to Wine Intelligence.
The California grocery channel grew by 1 per cent to US$1.7 billion in the year ended June 2019. Australia performed very well in the channel, growing by 7 per cent to US$22 billion. Australia exported A$154 million worth of wine to California in the same period, representing a 36 per cent value share of exports to the USA.
Please visit our United States Market Insights page for more information.
---
Sources: Wine Intelligence, Impact Databank, U.S. Census Bureau, IRI Worldwide, Nielsen/CGA, Wine Australia
---
Stay in touch with Wine Australia