Riverland, Riverina and Murray Darling are vast regions at the heart of the Australian wine community.
To download any of the education material, you need to have an account with Wine Australia.
To download any of our education materials please sign in or create an account.
Create an account
Show password
Tip: Your password must be at least 8 characters long
Facilitator guide
This detailed guide is packed with information, case studies and images. It can be used either to support the powerpoint presentation or as a stand-alone learning resource.
Riverland, Riverina and Murray Darling
Contents:
Explore Australia's inland powerhouse regions.
Learn about their signature styles and varieties.
Study their distinct geography, soils and climate, and influence on the wines.
Go beyond volume, discover boutique producers and alternative styles.
Find out how the regions are adapting to changing climates.
Presentation
A highly-visual presentation to convey key points and bring your tasting to life, as well as a printable handout of presentation slides with space for notes.
Certificates of Attendance
View all certificates of attendance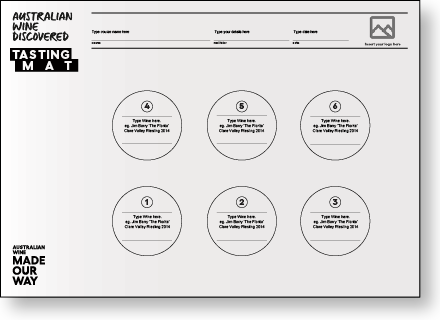 View all tasting lists
View all tasting mats
Terms and conditions of use
Australian Wine Discovered isn't just for wine schools and educators. It's a training, sales and marketing tool for importers, exporters, retailers, wineries, hospitality teams and more. The presentations are flexible and editable – you can tailor them to suit your needs and audience. Australian Wine Discovered videos can only be played in their current entirety and must be credited to Wine Australia. Videos must not be re-cut, re-edited or re-purposed. By ticking this box, you agree to be bound by the terms and conditions.
Stay in touch with Wine Australia