Hidden away in the Mount Lofty Ranges of South Australia, Clare Valley is a small wine region with a big reputation for its world-class wines.
To download any of the education material, you need to have an account with Wine Australia.
To download any of our education materials please sign in or create an account.
Create an account
Show password
Tip: Your password must be at least 8 characters long
Facilitator guide
This detailed guide is packed with information, case studies and images. It can be used either to support the powerpoint presentation or as a stand-alone learning resource.
The Quiet Revolutionary
Contents
Explore this small wine region with a big reputation.
Learn about signature styles and varieties (Riesling, Shiraz, Cabernet Sauvignon).
Read about how the region changed the world of wine by innovating with screwcaps.
Find out what makes Clare Valley Riesling unique.
Discover how winemakers are experimenting with new techniques and varieties.
Presentation
A highly-visual presentation to convey key points and bring your tasting to life, as well as a printable handout of presentation slides with space for notes.
Clare Valley Riesling
Overview of Riesling wine in the Clare Valley
Length: 02.50 mins
Download (5MB)
Certificates of Attendance
View all certificates of attendance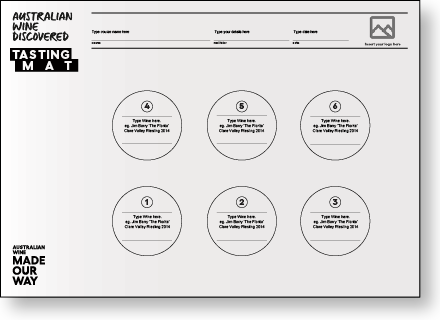 View all tasting lists
View all tasting mats
"For us Australian Wine Discovery has been an essential tool that we have leveraged across our markets (Asia, Americas and EMEA) to provide our marketing, sales and external distributer partners with a fundamental understanding of Australian wine, winemaking practices and key varietals. We have been able to overlay it with our wines to communicate key selling points and it has also helped us in the structuring of our own internal learning modules, taking inspiration from the content, flow and messaging to communicate wine knowledge with a lean towards our sales objectives."
This Australian Wine Discovered (AWD) education platform covers the latest information and various insights about Australian wines. By using these AWD modules, you can obtain updated information about Australian wine very easily. I use it as a very effective tool for wine education. The Australian Wine Discovered is highly versatile as it is freely editable with very sophisticated design. I am sure that you will find this platform as easy to use and helpful as I have!
"Australian Wine Discovered is an excellent resource for anyone interested in wine and for educators. It's so comprehensive and user friendly. A very important tool for the wine industry." Australian Wine Discovered was awarded Best Wine Website.
"I've had the opportunity to deliver Australian Wine Discovered programs to both Australian and international markets and the presentations, information and resources were easy to access, use and contextualise. The information is relevant, up to date and the messages and themes spot on. The response from participants has been overwhelmingly positive and I will be using it in our Wine School to deliver consistent training on Australian wine and regions."
"Australian Wine Discovered is an absolute must-have for everyone who is involved in wine education. It has already become indispensable for me, because the program sets standards in many areas. Australian Wine Discovered not only offers an incredible range of information on Australian wine, but is also perfectly tailored to the needs of its users. Its more than 200 modules are extremely clearly structured and offer everything that educators, lecturers and other professionals need: Photos, videos and entire PowerPoint presentations which are fully editable. And the coolest thing: it's all free of charge."
"I have been a Sales Trainer and Coach for 10 years for many different businesses in the Wine Industry and the content and resources created in the Australian Wine Discovered program is world class and very professional. The detail and depth of knowledge showcased in the videos and training resources makes it incredibly valuable for my clients in expanding the knowledge of their team. I have recommended all my clients tap into the collective wisdom at Wine Australia to truly elevate the service their teams can provide to their customers by being more educated."
"I've been using the Australian Wine Discovered resources to help me make customise presentations for educational sessions for customers and stakeholders of McWilliam's Wines. The content is professional, contemporary and so easy to use. It's made my job a lot easier."
"The education I did for our staff-educators went super well, much thanks to Australian Wine Discovered materials"
"As Sales Manager for Langmeil Winery in Barossa, part of my role is to help teach our trading partners around the world to sell our wines. Educating people not just about Langmeil, but around Barossa, South Australia, and Australia as a whole. What Wine Australia has created with 'Australian Wine Discovered' is world class. The wealth of information, and the tools supplied to help share it, is game changing. I would urge anyone involved in the sale or distribution of Australian wine to spend some time looking through this amazing education resource."
Terms and conditions of use
Australian Wine Discovered isn't just for wine schools and educators. It's a training, sales and marketing tool for importers, exporters, retailers, wineries, hospitality teams and more. The presentations are flexible and editable – you can tailor them to suit your needs and audience. Australian Wine Discovered videos can only be played in their current entirety and must be credited to Wine Australia. Videos must not be re-cut, re-edited or re-purposed. By ticking this box, you agree to be bound by the terms and conditions.
Stay in touch with Wine Australia